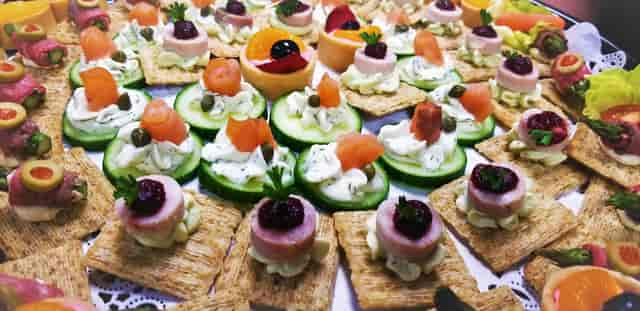 About Us
About Us
Sharko's Catering, a family owned and operated company, has been providing superior catering services for the metro Phoenix area since 1976. From corporate events to weddings… backyard picnics to fundraisers… hors d'oeuvres to sit down plated meals, we take pride in our ability to make your vision come to life. We not only work closely with our clients to develop menus that reflect their tastes and budget, we also employ a talented staff that includes servers, chefs and bartenders who are dedicated to providing the highest level of quality for your event. In addition to food and service, Sharko's Catering has the experience and knowledge to provide complete rental coordination that includes tables, chairs, linens, canopies and much more.

If you are planning a corporate lunch, picnic, open house, wedding, anniversary, Christmas Party, or whatever the occasion … when it's important that you feel confident about the food and service, Sharko's Catering is the answer. 

Centrally located in Phoenix, we also service Scottsdale, Mesa, Tempe, Chandler, Glendale, Peoria, Sun City and all surrounding areas. Sharko's has the experience and expertise to serve its clientele base ranging from a major event of thousands to a smaller, more intimate group of 10. Whether your event is large, small, formal, or casual, let the team of Sharko's Catering cater your next event with professionalism, style and ease.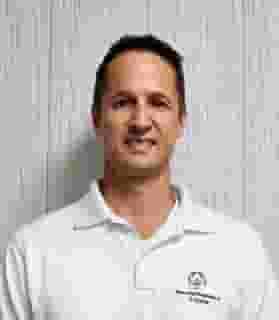 Gerard Sharko, Director Of Catering & General Manager
Gerard, our General Manager and Director of Catering, grew up in the restaurant industry, working for Mom & Pop Sharko since his high school days when he attended Gerard High School. He is in charge of the day to day business operations, consulting with clients on the phone and in person, and making sure that your event goes off without a hitch. His expertise and broad knowledge of the catering industry is the backbone of our culture. He's a dad to two beautiful girls and loves participating in many different sports, including bowling & golf in his off time.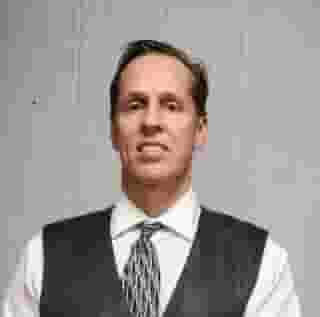 Glen Sharko, Corporate Sales
Glen is our outside sales expert, traveling the valley extolling the virtues of Sharko's Catering to all he comes in contact with. An extremely hard worker, Glen also makes sure that our events get out the door on time, and with all of the supplies needed. Glen is married to a beautiful lady, Lucy and is active in his church.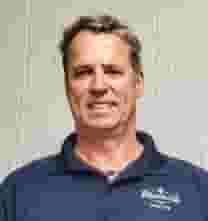 Gary Sharko, Operations
Gary, along with Gerard & Glen is an essential part of Sharko's Catering and it's hard to nail down all that he does with one "title"... "All Around Awesome Guy" explains it pretty well but to get down to the nitty gritty, Gary does it all, from food shopping to captaining our events. Service is his middle name - our clients often ask if Gary will be on scene during their event because he goes out of his way to make sure that everything is perfect and that the client is satisfied. He also coordinates all of our staffing for our events. Gary played professional baseball for the San Francisco Giants Organization (88' - 95') but now "throws" all of his talents into our events, and his beautiful wife, Lupita.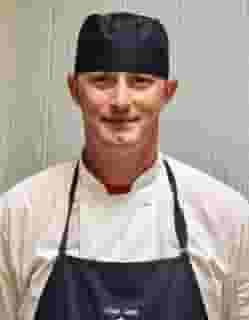 Jake Heintz, Executive Chef
Chef Jake is Sharko's executive chef and has been a part of our crew since 2004. Trained at Le Cordon Bleu, Chef Jake is in charge of the day to day operations of the kitchen. He also jumps in when we need an extra hand making deliveries and staffing large events. Jake is married and in his spare time enjoys traveling, riding his motorcycle, and is a Mopar guy at heart.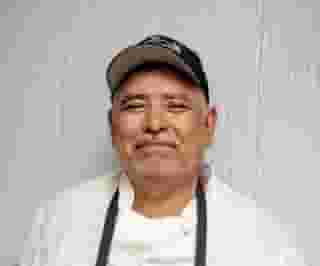 Roman Lara Cruz, Our Chef
Roman been with Sharko's Catering since 1988, and is a remarkable asset to the company. Over these many years Roman's dedication has been a key component of Sharko's success. Classically trained, Roman creates all of our sauces, salsas, and Mexican favorites with skill and heart, and his friendliness makes him a great co-worker.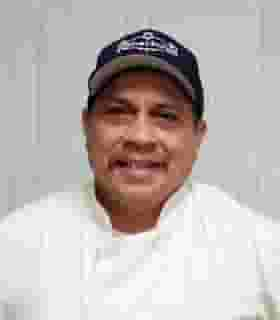 Tommy Melendrez, Our Salad Chef
Tommy, aka "Chico" has been with Sharko's since 1992. Tom creates all of our homemade house dressings, sauces for the sandwich and wrap platters, and all of our cold salads including Sharko's Famous Potato Salad . For large events, he carves our sirloins, turkeys and hams to order. He insight and creativity produces delightful designs for our party platters. He's the kitchen clown and always has a large and infectious grin on his face.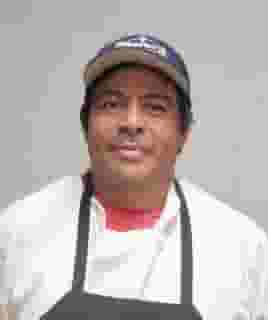 Honorio Lara Cruz, Sous Chef
Honorio has been with Sharko's Catering since 2003. Along side Chef Jake & Chef Roman, Honorio assists where he is needed most in the kitchen but his baking is what sets him apart... His cookies and cheesecake are to die for and he bakes a mean dinner roll!. Honorio is blessed with four beautiful children.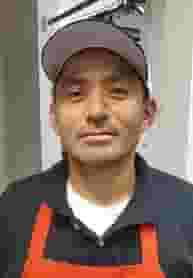 Andy Garcia, Scullery Manager
Andy has been with Sharko's Catering since 2003 and is most likely the hardest worker here at Sharko's. His responsibilities include managing the kitchen's scullery area, making sure that all of our pots & pans are clean and sparkly! He also is in charge of all the china and glassware at our full service events, packaging them with care, and restocking all afterwards. Andy is an avid bike rider.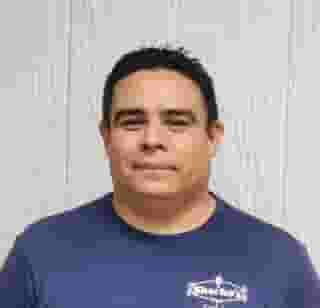 Carlos Lara, Catering Operations
Carlos has been with Sharko's Catering since 2003. His contribution to the company is essential.. He takes care of all of our linens and napkins. Carlos also is among our professional wait staff & we couldn't do what we do, as well as we do it without his support. Carlos is a great asset to the finer details of our operation. He is happily married with one beautiful daughter.